You are looking to set up your landing page or website but don't know where to start?
Maybe you don't have coding skills and you are wondering how can you still get success in getting a website?
Maybe you have heard some recommendation and tools like WordPress, Wix and leadpages but don't know which one you should choose?
Internet is full of tools and recommendations that can make a new person overwhelming, obviously because they had never used it before.
So what I am going to do is give you some famous tools name and tell you how you can use that tool.
When I was starting, I was also a little worried about creating the website. I am a designer by profession, so I also end up with the static mockup, which was beautiful, but the client can't use it.
They have to hire a developer for doing the coding work. This problem motivated me to check "no-code tools", which helps create website and landing pages without coding.
Also, sometimes I have to create a website for myself and hiring a developer every time is a money-wasting thing.
Maybe you also have the same problem as me, so let's start with the first rule.
If you don't care about anything, just wanted to setup up a simple website or landing page.
These tools are required when you are in a consultancy or service-based businesses (like mentorship or teaching.) Where customisation is not necessary, you only have to set up your simple website to put your bio, services and write a blog.
Even if you have a simple business, you can use these to get the lead from your website. You are selling sunglasses; you can suggest people go on your website and choose one glass from there and send it names.
Below are tools that can help you set up your website hassle-free and within an hour, with an affordable budget.
This is the first recommendation I had found with. It's a simple drag and drop tool for building the website. You can also choose a theme according to your need and then adust the images, text and other things.
Here is how to set up your Weebly website
The problem with Weebly is I don't like their outdated templates, and they don't have many variations of the template. So I will suggest you look for some other options.
Wix is also a drag and drops page builder, but I prefer it more as compared to Weebly also it has vast amount of template to choose from.
Here is the video on how to set up your Wix website
WordPress is also gaining popularity when it comes do setting up a simple and powerful site. Do not get confused it with wordpress.org.
Here is the video on how to use it!
I will still suggest you to use wix because wordpress can be a little bit harder for you to use and also wix has good customer support.
Weebly vs Wix
If you are a little bit confused regarding which one you should choose, follow the below video and here is a good article comparing Wix and Weebly. https://tech.co/website-builders/weebly-vs-wix-website-builder-comparison
My thought on the tools mentioned above: Although the tools mentioned above are straightforward to use and set up, they don't give you complete control over everything. You want to access and edit some server-side file, or you want to set a redirect, or you want to optimise your website for SEO purpose.
Also, they are not built especially for one purpose it means all the features presented on these websites are very general. So that's why I don't like to use it in my workflow because I am the person who want's full control over my website.
If you need a simple website/landing page but with a little bit of control.
If there will be any mention of control on landing page and website, it's obvious to use WordPress because it's a free, popular and beginner-friendly platform.
To manage your whole website Webflow is also an alternative but it require time and effort to learn.
It also gives you control over everything, but you are new and want a little bit of control of your website.
Then you use below mentioned things combined with WordPress.
Use elegant theme
You can use go on to the elegant theme, and from there, you can purchase an elegant subscription according to your need. Once you purchase the theme, you just have to upload that theme on the WordPress website, choose a template, drag & drop the things you want, update the content, and you are ready for launch.
Here is the full video, which will guide you properly.
Themeforest
You can also buy your theme from themeforest.com; that's a straightforward process. Once you buy the theme, you can directly upload the theme and follow the author documented process to create a website like the way he is showing in the picture.
Here is the create video teaching about it.
If you are specifically building a landing or sales page and don't care about complete control!
Think of the given tools as a Weebly and Elegant theme, but it is specially built for those who want to do lead generation, upsell, sell products & services, capture emails, and do A/B test things like that.
Since it's coming with these types of inbuilt feature for capturing email and selling course. It's natural to be costly and also not give you complete control over everything.
If you just want to sell something and lead generation where control doesn't matter much, go ahead with this tool without thinking even a second.
There are 3 more tools(click funnel, Unbounce, Instapage) similar to what leadpages is doing, but personally, I don't know much about them, but you can learn about them from here. https://www.growthmarketingpro.com/instapage-vs-leadpages-vs-unbounce-vs-clickfunnels/
If you need customisation and complete control over your landing page.
Naturally, sometimes we have to use things according to our needs for example: What if I want to use the paid font, but I don't have API for it, this was just an example, but when you will make your advance landing page, you will also encounter these types of problem.
That's why I decided to tell you about some of my favourite tools for doing it! Many of us don't want to follow the conventional template because sometimes they don't look good, or sometimes their content doesn't fit in the pre-built template.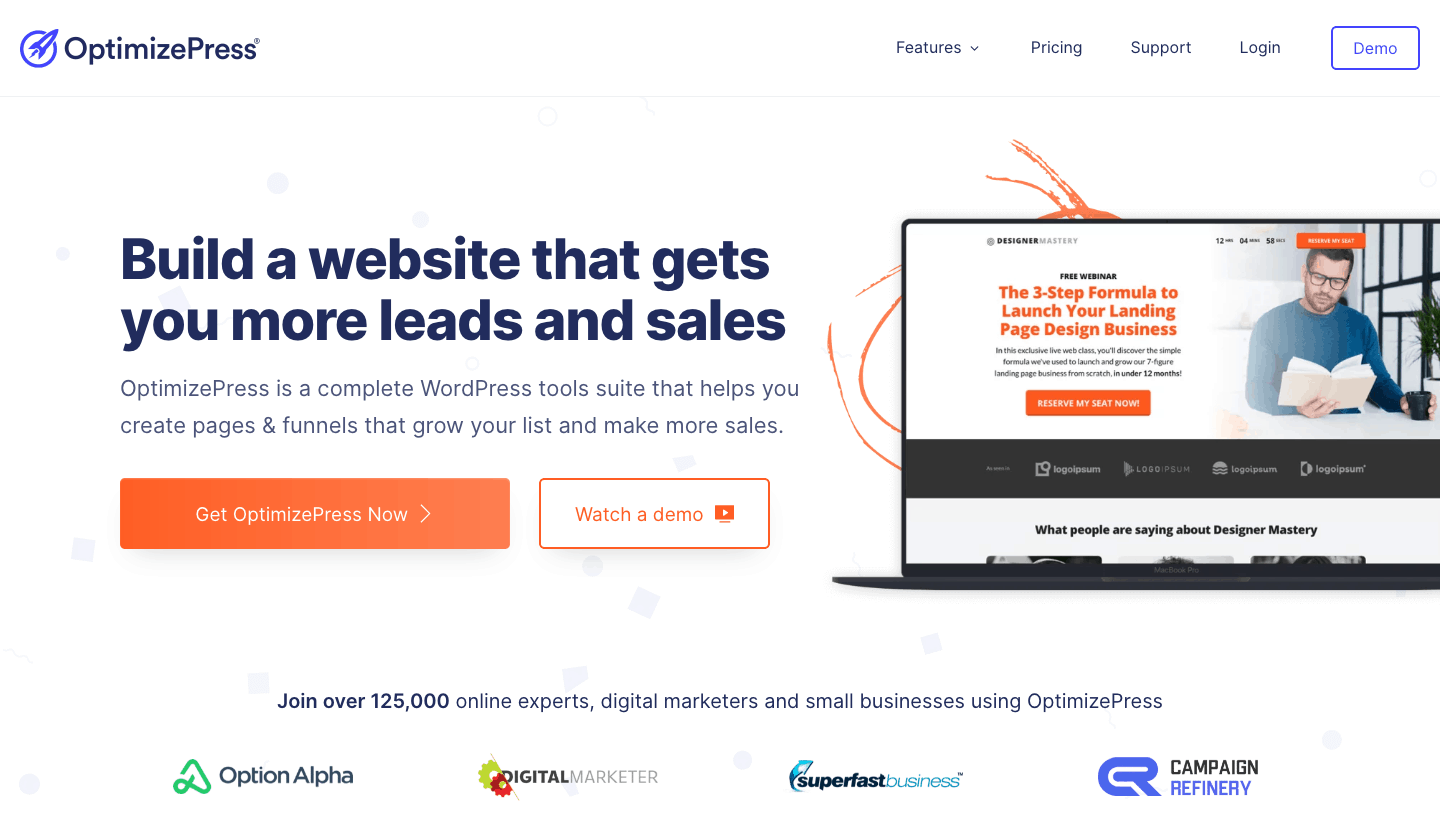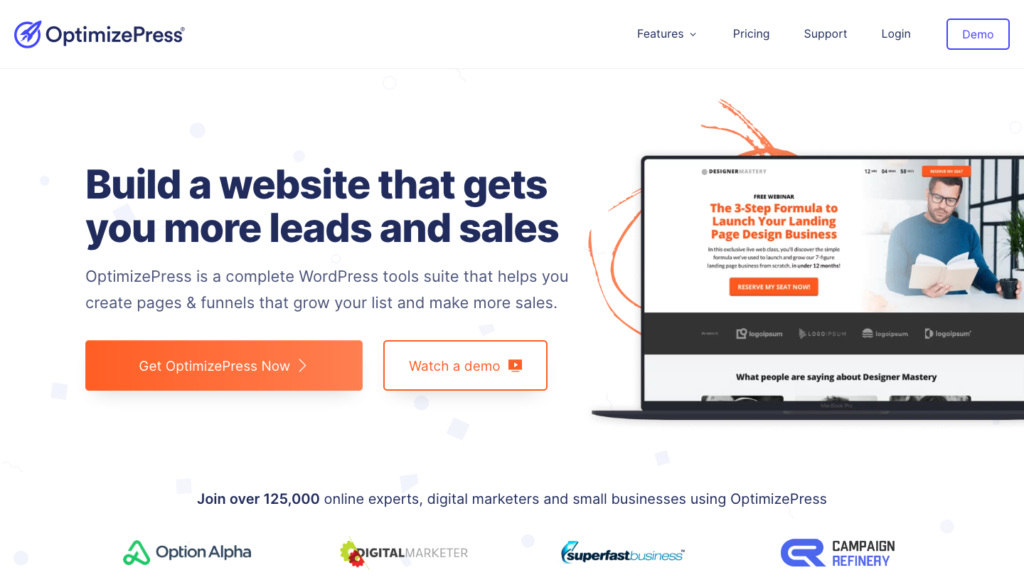 This is the best tool in terms of creating a landing page and sales pages. The most important thing I love about OptimizePress it is built on WordPress. And WordPress already give you full access to your website(assuming that you have your own domain and hosting).
Things you can do with optimizepress:
Optin & Landing Pages
Sales & Offer Pages
Checkout Pages
Upsells & Downsells
Lead & Sales Funnels
Stats & Split Testing
Unfortunately, I didn't find any good video on teaching how to create a website in optimzepress, but you can learn about it on their official website.
What I personally use!
Elementor(this is what I use personally)
If you think why I am not using the optimizepress over elementor, then here is the reason:
I had never heard about optimizepress until I created my own website.
Optimizepress is built especially for landing pages, not for an entire website.
These were the main reasons I didn't use the optimizepress, but I will definitely take a look next time when I have to create a landing page next time.
That's all for now I hope you will get value out it!